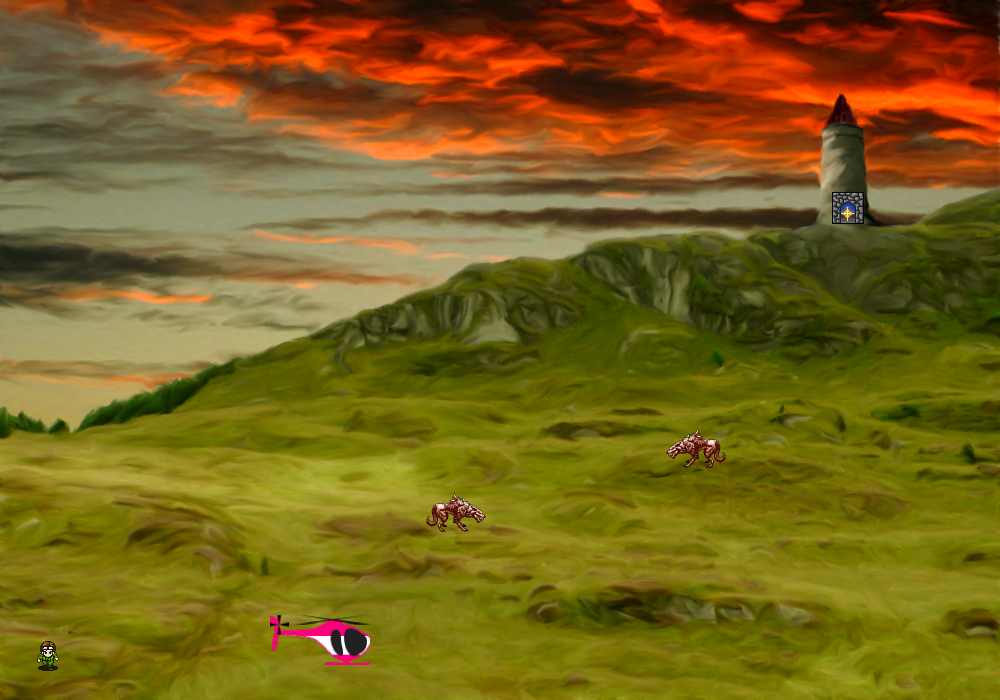 The Mystery of the Blood Fountains
A downloadable game for Windows
Your friend Doc has a problem: his fountains have dried up or worse still, their water has turned blood-red. Doc is concerned and scared. How can you help him? Repair the fountains and discover who or what is the cause of this strange phenomenon. Be careful: you'll encounter enemies and you don't have weapons! Flee, if you value your life, if they catch you, you're dead!
Loot the levels for score points and beat your friends with best highscore! The repaired fountains don't give points, but if you don't repair them all you cannot proceed to the next level.
Game has different endings with different choices and takes about 40 minutes to complete. Have fun!
Controls
Move with keyboard arrows (up, down, right, left) and interact with NPC, monsters and objects by colliding with them. Leave with escape. The game saves automatically as soon as you have completed a level. For more info see Help on the first screen or call with F1.
Versione italiana (original version):
Il tuo amico Doc ha un problema: le sue fontane sono o secche o ne esce un liquido rosso che assomiglia a sangue. Doc è molto turbato da questi avvenimenti. Aiutalo riparando le fontane e scoprendo chi ha provocato questo strano fenomeno e perché.
Incontrerai nemici e ostacoli: evitali, se ti è cara la pelle! Sei disarmato e non li puoi uccidere, se ti toccano, muori.
Fai incetta di bottino: ogni oggetto raccolto dà punti (Highscore!). Le fontane riparate non danno punti, ma se non le ripari tutte, non si aprirà la porta per il prossimo livello.
Il gioco dura circa 40 minuti, ma ha fine diversa a seconda delle tue scelte.
Controlli
Puoi controllare il tuo personaggio con le frecce della tastiera e interagire con persone, oggetti o creature collidendo con essi. Puoi uscire da ogni schermo con escape. Il gioco salva automaticamente dopo ogni livello completato.

Credits:
The banner "wizardtower painting" was made by JAP(23.1.2011) . You'll find his work on https://opengameart.org/content/oil-painting-landscapes; license Public Domain CC0. All other credits are in the game (press F1 and scroll).

This game was made with Game Maker 8.1.
All translations were "handmade", no computer babbling!

| | |
| --- | --- |
| Status | Released |
| Platforms | Windows |
| Author | criacuervos |
| Genre | Puzzle, Survival |
| Made with | GameMaker: Studio |
| Tags | Arcade, Casual, Cult Classic, maze, minigames, Multiple Endings, Non violent, Retro, Stealth |
| Average session | A few minutes |
| Languages | German, English, Italian |
| Inputs | Keyboard |
Install instructions
Scarica Fontane rosse e fai doppio click sull'icona verde!

Download Blood fountains then double click on green icon and off you go!
Blutbrunnen herunterladen und Doppelclick auf grünes Icon!
Download